On Tuesday, Yarraman Park Stud released its fees for its pair of stallions, the elite I Am Invincible and his Group 1-winning son Hellbent. There were few surprises when I Am Invincible, heading into his 13th breeding season, was announced at $247,500 (inc GST).
It brings the rising 18-year-old stallion back to his career-high stud fee, equalling his pre-COVID, 2019 figure and, according to Arthur Mitchell, co-director of Yarraman Park Stud, it's both fair and reasonable.
"He's back to that pre-COVID fee or thereabouts," Mitchell said. "We reduced him for 2020, thinking we were going to hit a bit of a downturn, so we've just brought him back up to that fee that he was at a couple of years ago.
"Most people we've spoken to, and the horse is fully booked already, are very happy with the fee. They think it's fair and I do too."
I Am Invincible was reduced to $209,000 (inc GST) two years ago, and last year he crept up to $220,000 (inc GST). Throughout, his books remained robust at 193 mares.
"We've put him at that fee this year and, to be honest, I think we could have stood him at more," Mitchell said. "But we thought that was a fair fee because a lot of people have supported him for a long time now, so it was the right fee to put him at to give everyone a chance."
By name, by numbers
Right now, I Am Invincible sits just behind So You Think (NZ) on the sires' premiership by earnings. By winners, he's clear of Written Tycoon and Snitzel.
The stallion's overall stats read remarkably, with 75 stakes winners for 45 Group winners. His progeny has netted close to $130 million in earnings, and his winners to runners ratio is 78 per cent.
This season, he's had Home Affairs win the G1 Lightning S. and, in New Zealand, Imperatriz a pair of Group 1 races. He's had Marabi win the G1 Oakleigh Plate, not to mention the eight total stakes winners he's clocked this racing year alone.
"He has worked pretty hard to get to where he is," Mitchell said. "He started at a very low base, and for the first four years he didn't cover that many exciting mares. So in the last five years, he has probably covered the good mares, and now he's covering the elite mares."
I Am Invincible entered stud in 2010. For the first four years he was $11,000 (inc GST), after which he spiked to $27,500 (inc GST) and then $55,000 (inc GST), where he stayed for two years before reaching a six-figure fee.
Mitchell says it was a humble rise to excellence, and he's still hoping the horse can land the sires' premiership this year.
"I'd like to hope we can get Champion Sire this year," he said. "That's what we're dreaming about, but the wet tracks work against him quite a lot. Obviously, this eastern seaboard wet-weather has made it tricky for him because his progeny aren't really effective on wet tracks."
I Am Invincible is in the rarest air among sires this spring upcoming.
Last week, Extreme Choice was announced at $275,000 (inc GST), while Arrowfield put Snitzel back to his pre-COVID best of $220,000 (inc GST).
"Talking to people, I haven't heard anyone say anything negative about the fee we've set," Mitchell said. "I've heard a bit of whingeing about some other stallions, but I think a lot of people thought we would stand him for a good bit more.
"It's what we decided to do because we wanted to be fair, and as long as people want to send their mares to him, it's important to us that they can get a return in the sale ring or on the racecourse."
Hellbent on success
Since 2010, Yarraman Park Stud has managed the progression of I Am Invincible to his dizzy heights. In a way, it's been good fodder for his son Hellbent, who is entering his fifth spring on the farm.
Hellbent has been announced this week at an unchanged fee of $22,000 (inc GST), which will mark three years at that service fee.
"Hellbent had a better start to stud than I Am Invincible because he was syndicated," Mitchell said. "I think Hellbent has had better mares, and we think he's started well. Again, he's a bit held back by these wetter tracks, but he certainly had stronger books of mares than I Am Invincible at comparative points of their careers."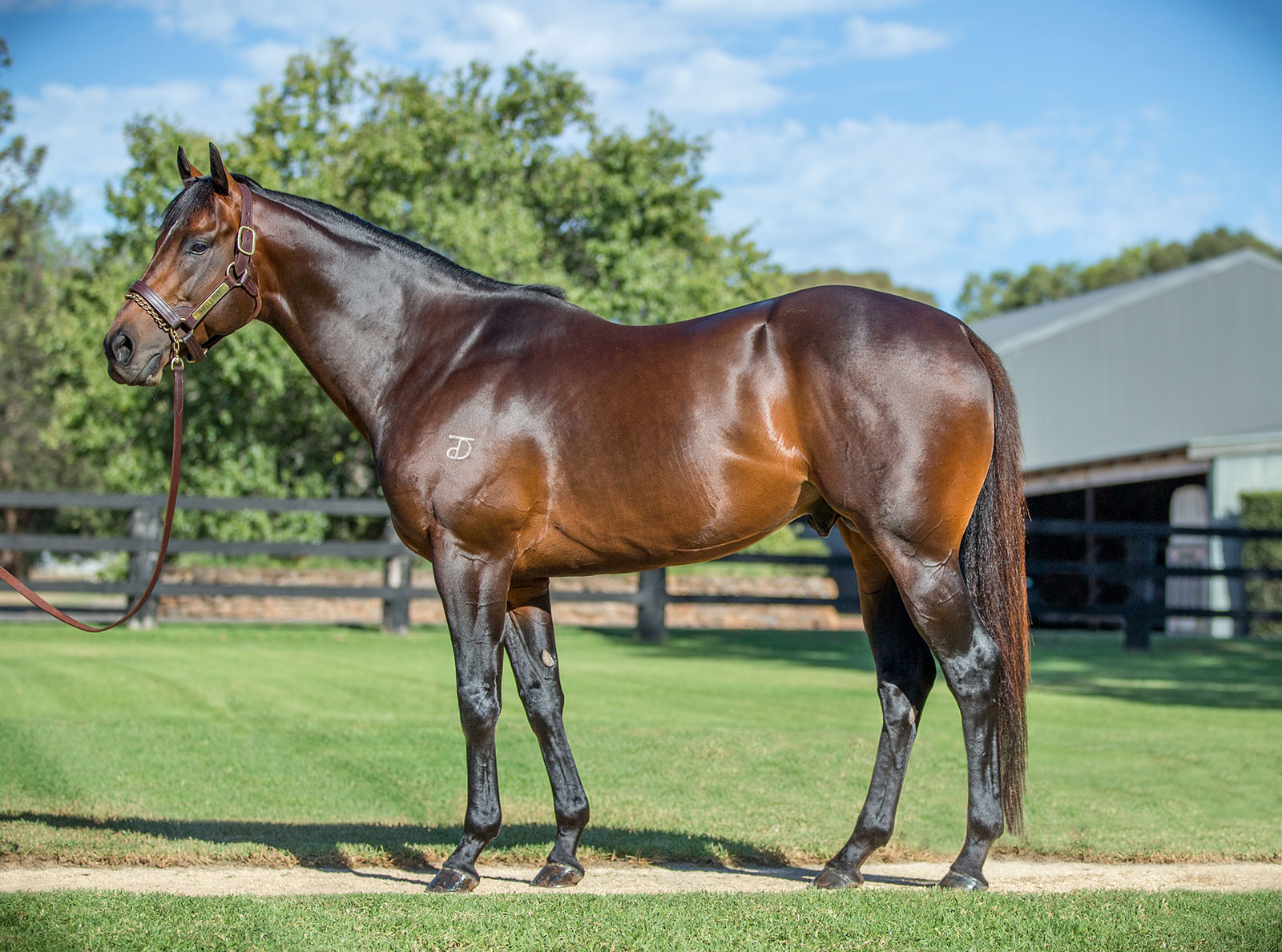 Hellbent entered stud in 2018 with a Group 1-winning career behind him. In that respect, he had the bounce on his famous father, who retired to Yarraman Park without a Group 1 win.
Hellbent won seven races and close to $1 million in his career, and he was third to Russian Revolution in the G1 Oakleigh Plate before his final race, a winning performance in the G1 William Reid.
The 9-year-old stallion has covered very robust books in his four years at Yarraman Park, with 182 mares in his debut season into 148 last spring. While commencing duties at $27,500 (inc GST), he's remained there or thereabouts, something that Mitchell said was based on age.
"He's still got to prove himself," the studmaster said. "We've had three winners and three Group-placed horses. We're pretty sure there are some very nice horses out there, and I think that was proven by how well they sold this year at Magic Millions and in Sydney.
"The leading stables have been willing to buy them, so they obviously have an opinion of the 2-year-olds they've got. We're very hopeful that he's going to go okay."
Mitchell said the Hellbent runners and yearlings have given him confidence that the wider market is liking what it's seeing. So far, the stallion has put Miss Hellfire on the board, who was a winner on the Gold Coast and second in the R. Listed Magic Millions Wyong 2YO Classic.
He's also had Bohemian Daisy run third in the G3 Ottawa S., while Warby was second in the G3 Black Opal S. in Canberra.
"He's getting nice horses," Mitchell said, "and it gives you a bit of confidence when you see the leading trainers going in for them as yearlings. It means they like what they're seeing."
By the books
In the sale ring, Hellbent has had 172 yearlings offered through 2021 and 2022, 162 of them selling under the hammer.
In 2021, their average was a tick over $115,000, and this year that figure has risen to almost $138,000.
His top-priced colt sold for $370,000, and his top-priced filly reached $500,000. The latter was sold at last year's Magic Millions Gold Coast Yearling Sale to Heinrich Bloodstock, and she is the unraced 2-year-old Dirty Dancing.
For any farm, those lulling years of the fourth and fifth books, when progeny have crept into racing but only just, can be complicated when it comes to setting fees.
"It can be," Mitchell said. "Hellbent's still got to prove himself, and we'll get a full book of mares to him, but it's a year that people are gambling on a bit, isn't it?"
Mitchell said that Hellbent will cover about 150 mares this spring, which will sit comfortably with his past seasons, and I Am Invincible will cover similarly, albeit on a much stricter book.
"I'd like to think I Am Invincible will cover around 160, but we sometimes cover a bit in December for people that want to breed at a later service date," he said. "We'll also open a few spots for him after the Magic Millions broodmare sale, but after that his book will be closed.
"On saying that, it's not black and white. The figure for him is 160, but we certainly want to reduce his book by at least 20 on past seasons. It's a preservation thing, really. He's certainly very fertile and he's very good in the barn, but as they get older they need a bit more nurturing."
For Mitchell, this time of year rolls around like clockwork.
He admits that working out the fees for two stallions isn't particularly difficult and, alongside his brother Harry and the farm's General Manager Matt Scown, they get it done with good rhythm.
"We've only got two horses," he said. "It would be a different story at some of these other farms that have a dozen horses to look after, and a mix of new stallions and older ones. We don't have those numbers, so Matt, Harry and I just get it done."
However, Mitchell said that Yarraman Park would ideally like to stand a third stallion on its concise roster.
"We would like another one, but the colonial horses are very expensive at the moment," he said. "Our focus on that colonial element is something that is working for us right now. We've got a lot of contacts overseas, obviously, but we are inclined to stand colonial horses if we can."